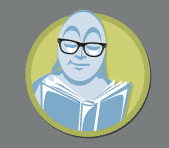 For years I've gotten my news and information on books and the publishing industry from Shelf Awareness, a free e-newsletter. So I was really excited to see that they're now putting out an edition for readers and other book lovers.
I've discovered so many wonderful books because of their recommendations, and I definitely recommend signing up for this twice-weekly email. You can find out
more details on the new edition here
.
Or, if you're interested in news about the entire publishing industry (geared more toward bookstore owners and employees), you can sign up for the pro edition, which comes each day of the work week.